Applications are closed for Fall 2023 Team Leaders.
The Team Leader program at the Burnett Honors College became an important component of the Honors Symposium course during the 1996-1997 academic year. During the fall semester, Team Leaders serve as teaching assistants for the Honors Symposium course and mentors for groups of 15-20 first-year BHC Scholars. The Team Leader program recruits outstanding honors students at the sophomore through senior levels to serve as role models and guides for first-year Burnett Honors Scholars. Each Team Leader is selected on the basis of a rigorous process that includes group interviews, an evaluation of academic standing, and leadership in other areas of the university life. Team Leaders attend a three-day retreat in order to gain a better understanding of their role in Honors Symposium. Additionally, they attend weekly meetings to discuss and learn how to better serve and support the students in their break out groups.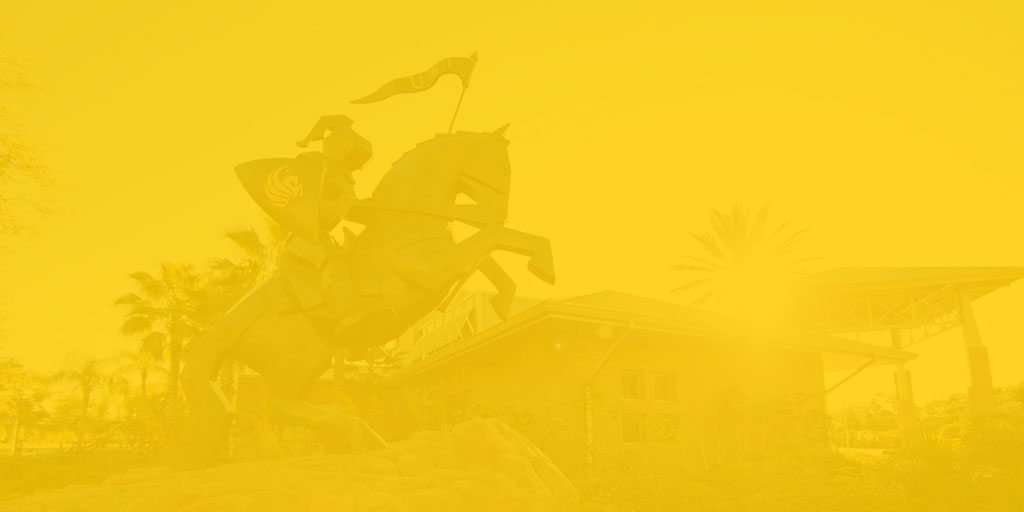 Team Leaders are responsible for...
Leading breakout discussions with their team members following each lecture
Monitoring their team members' assignments and attendance
Organizing various social and cultural events for their team members
Serving as liaisons between the Burnett Honors College and their students
Participating in a leadership development retreat and weekly meetings
Honors Team Leaders are:
Active and involved members of the UCF community
Dedicated to helping other students succeed
Approachable and assertive
Comfortable leading difficult discussion and speaking in front of their peers
Creative thinkers
---
Team Leaders help to facilitate learning outcomes by:
Being available to students
Upholding the tenets of the UCF creed
Setting an example for student success and academic involvement
Helping students make healthy and responsible decisions
Creating and maintaining an appropriate professional relationship with students
Fostering a learning environment that includes building a sense of community within the classroom, encouraging reflection and growth, and active engagement in-class activities
Your 2023 Team Leaders!
Monday
Jake Blendermann

Monday Coordinator
Health Sciences (Pre-Clinical)

AJ Johnson

Film

Alicia Kralik

Biomedical Sciences

Arley Scarborough

Advertising & PR

John Eastep

Film

Jonah Lynne

Forensic Science (Biochemistry Track)

Karthik Kappagantu

Computer Science

Lea Wright

English Literature, Humanities, and Cultural Studies

Liza Doyle

Biomedical Sciences

Megan Bailey

Computer Engineering

Michael Bassett

Mechangical Engineering & Molecular and Cellular Biology

Nathan Roux

Pre-Marketing

Neda Kadivar

Biomedical Sciences

Nivedha Srinivasan

Biomedical Sciences

Reagan Cunningham

Interdisciplinary Studies

Ria Gupta

Biomedical Sciences

Sasmeta Giriraj

Molecular and Cellular Biology

Tera Caporella

Political Science & Legal Studies
Tuesday
David Katz

Tuesday Coordinator
Chemistry, Biochemistry Track

Alysha Irvin

Mechanical Engineering & Biomedical Sciences

Ariana Jordan

Biomedical Sciences

Alex Hynds

Computer Science & Music Composition

Austin Vosler

Computer Science

Baylee Behrens

Entertainment Management

Gabriella Battenfield

Entertainment Management

Gabrielle Doherty

Mechanical Engineering

Haley Galvis

Biomedical Sciences & Biotechnology

Harrison Keating

Computer Science

Jack Andrews

Computer Science

Jake Tattersall

Computer Engineering

Karina Juarez

Accounting

Kerstin Gracia

Psychology - Clinical Track

Lukas Olsen

Biomedical Sciences

Riley Corbin

Biology - Zoology, Pre-Vet Track