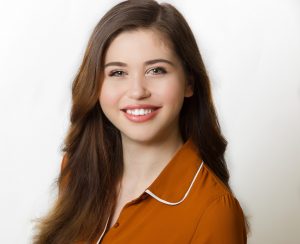 BHC Scholar Nina Bethencourt Neto has a resume that is nothing short of impressive. During her time as an undergraduate student at UCF, Nina completed an Honors Undergraduate Thesis, earned her real estate license, did an internship with the United Nations Association, and started a non-profit dedicated to teaching English to low-income immigrant families. On top of all that, she was recently awarded a Fulbright Grant to teach English at a university in Brazil.
Though the process of applying for a Fulbright Scholarship can be time-consuming, Nina emphasizes that the end result is worth it. Additionally, the application process is not something students need to tackle on their own. Nina says that the Office of Prestigious Awards (OPA) was extremely helpful in navigating her through the several components of the application. As she describes, "UCF gave an enormous amount of attention and feedback to each individual application. I could not have done it without OPA and without Morgan [Bauer]. They guided me through the whole process."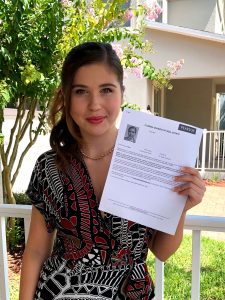 In addition to several essays and a language evaluation, the Fulbright application requires candidates to include recommendations. One of Nina's recommenders was her thesis chair, Dr. Michael Mousseau. Nina's thesis, "An Application of Economic Norms Theory to Brazilian Corruption," was based on a theory developed by Dr. Mousseau. As she explains, "It looks at the intersection between culturally-informed economic norms in a given country and a variety of behaviors on both domestic and international fronts." This research also overlapped with another of Nina's interests. "I got my real estate license while I was in school, so I was already very interested in how economic forces like a real estate market can affect and be effected by cultural forces," she states.
Nina will be in Brazil for nine months, beginning in March of next year. She says that she's most excited for the chance to do preliminary research before she later attends grad school, as well as the opportunity to teach English to students who will one day become English teachers themselves. "I have such a passion for teaching English and I'm just so excited to share that passion with future educators," she says. Having graduated from UCF last spring with a major in international & global studies, Nina plans to later earn her master's degree in either international relations or business administration, with the eventual goal of becoming a diplomat.
To students who are interested in completing an Honors Undergraduate Thesis or becoming a Fulbright Scholar, Nina says, "My advice is: do it. Start considering topics that pique your interest. Develop closer relationships to faculty members—ask them about their research. That's how my thesis started—I had a class that I thought was amazing under Dr. Mousseau. I asked to read his original research and I just found it so fascinating that I wanted to be a part of furthering his work."