Kristen Detz, an elementary education major and student at the Burnett Honors College, recently received the one of UCF's most prestigious honors, Order of the Pegasus. As a first-generation college student, Kristen recognizes that she has been able to make a positive impact during her time at UCF and is proud to be recognized for this award. She hopes to inspire other students to reach for the stars as well.
What leadership activities were you involved in that led to you being nominated for this honor?
I was a part of second-year leadership in LEAD and volunteered regularly. I have been a part of the Knightmare Advisory Council, Sigma Alpha Iota International Music Fraternity, Marching Knights, Student Knights Club Advisory Board, President's Leadership Council, and Student National Education Association.
Everything I have done has been with intention and excellence. I put my heart into everything I do in hopes to make a lasting impact. Networking has been important in my UCF journey as it connected me to those that could write letters of recommendations, speak on my behalf when I am not around, give me opportunities to speak at events, volunteer opportunities, and even serve as a mentor.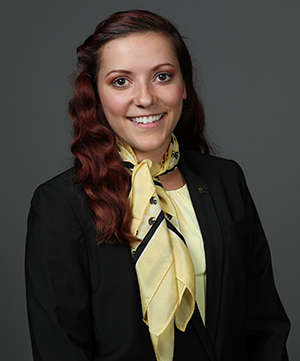 It all began in the LEAD Scholars Academy. I saw the pictures of past LEAD Scholars that received Order of Pegasus hanging on the wall. I wanted my picture to be up there one day as well.
What is your long-term goal, and how will being a member of the Order of the Pegasus get you there?
Upon graduation, I hope to remain in Orange County as an elementary school teacher. In the future, I plan to return to UCF to earn my master's degree in educational leadership so that I can become a principal, eventually a superintendent, and maybe one day the Secretary of Education. Order of Pegasus can help me achieve even my highest of goals because it is a testament to my devotion to excellence in all I do. Leadership positions in the education field are dominated by men, and the incredible distinction that is Order of Pegasus will help me be taken seriously in my endeavors to create change in education.
What advice do you have for others who may want to achieve the Order of Pegasus?
It is not about who you know, it is about who knows you. Introduce yourself to professors and staff within your specific college. Those connections can lead to internships, jobs, volunteer opportunities, and more. They need to know who you are in order to speak to your accomplishments and dedication. If you are not involved at UCF, you should be. Be involved in at least one organization related to your major so you can build a network of like-minded individuals. Greet everyone you meet with a smile; it makes a world of a difference in first impressions. Find your passion and devote time to it. Volunteerism is a passion project of mine, so I try to volunteer every opportunity that comes my way.