Spotlight: Honors Transfer Essay Scholarship Recipient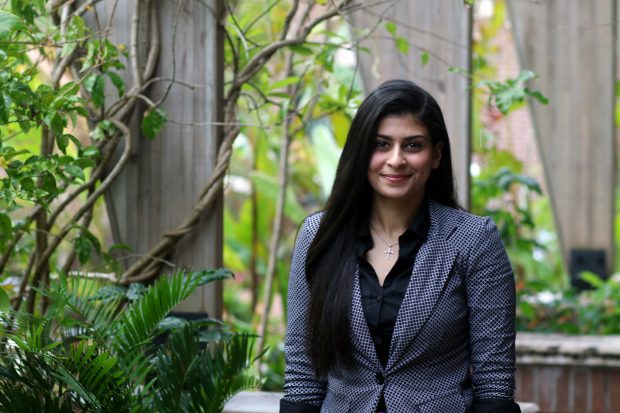 Maria Makar, a transfer student from the honors program for undergraduate research at Valencia College with a major in interdisciplinary studies, focusing on biomedical and physical sciences, and minors in psychology and art, has received the Honors Transfer Essay Scholarship with her essay "Knowledge is Power."
""Knowledge is power. Information is liberating. Education is the premise of progress, in every society, in every family." - Kofi Annan. This quote represents a big part of who I became after starting college in the USA. As a recent immigrant, I had experienced very different education system that did not satisfy me as a very inquisitive person. Receiving an American higher education enhanced my life, not only with helping me to secure a great future career, but also by fulfilling my desire for knowledge. Education motivates me to have further curiosity and eagerness to understand the people and the world around me on many different levels," explained Maria.
Currently, she is participating in the Applied Cognition and Aging Laboratory at UCF's Psychology department and hopes to begin an Honors in the Major research project in the future. "In the laboratory, I consider every day as a learning experience where I gain knowledge about human cognition across the lifespan and how to develop ways of improving humans' performance in real world tasks. Having these indispensable experiences makes me more eager to expand my knowledge in scientific education and research not only in Microbiology and Human Psychology, but, more broadly, Molecular Medicine, Neuroscience, Genetics, Egyptology, art in medicine, and the study of languages," said Maria.
Receiving the Honors Transfer Scholarship means that Maria would be able to focus more on her research and worry less about the cost of school or materials for research, as the scholarship carries a $1,000 award. "This Honors transfer scholarship would be an immense aid to enable me to follow my passion in education," Maria said, "It means a lot to me. It gives me a lot of confidence. It reassures me that I'm on the right track. Somebody read what I head in my heart and believed in me. The meaning of the scholarship is amazing. By having this scholarship, I now have people supporting me. I am now reassured that there is hope in my dreams."
Maria is excited to be continuing her academic career with the Burnett Honors College. She believes that the Honors community will be the backbone for her future career in medicine. In ten years, she plans to be working on a residency program in internal medicine after having graduated with her MD-PhD dual degree.