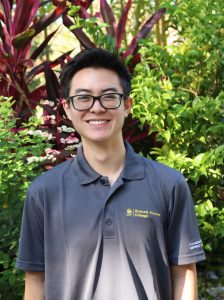 "The entire Burnett Honors College and the people behind it have helped me the most. The Viva Mexico service-learning program evolved my perspective on the world. The Honors Undergraduate Thesis program taught me how to communicate, write, and present in academia. Lastly, the Honors Symposium Team Leader program shaped my love for mentorship and community. Overall, the BHC has helped me so much with the level of success I have achieved, and I know the lessons learned will be with me my entire life."
Denielle Abaquita's involvement at UCF has been characterized with a desire to help those around him. As part of the Viva Mexico Service-Learning program, Denielle says he "learned the value of international service and solidified [his] interest in helping underserved communities in the future." During his junior year, Denielle completed his Honors Undergraduate Thesis with Dr. Pamela Wisniewski, whom he met through an honors research event. His thesis, titled "Understanding the Challenges Child Welfare Workers Encounter Related to Promoting the Online Safety of Foster Youth", consisted of interviews with social workers intended to raise awareness of the struggles they face in maintaining the safety of foster children on the internet. Currently, Denielle works as an Honors Symposium Team Leader, where he gets the chance to mentor and build community with incoming freshmen.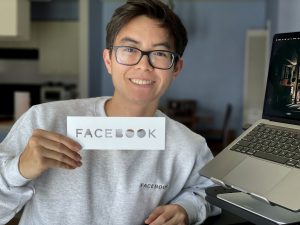 During the summer of 2021, Denielle worked at Facebook as a software engineer intern. As he describes, "I was responsible for delivering an account balance feature on iPhones for WhatsApp Payments in India, which was recently featured on Business Insider. Knowing that my code is available to use for millions of people and that the feature will help ease their experiences is simply mind-blowing." The interview process for this position began in September of 2020. Over the course of three weeks, Denielle completed a practice interview with a Facebook recruiter before moving on to a coding assessment and two real interviews. A week after the second interview, on his birthday, he got the call that he had gotten the position.
This internship has since turned into the beginnings of Denielle's career. After he graduates in May, he'll begin as a software engineer for Facebook in August. Before that, though, he plans to spend time with his family, traveling to the Philippines and exploring other countries. Having moved to the U.S. from the Philippines at age four, Denielle views his time there as a driving factor behind his success. "My memories from living there and experiencing what my parents had to go through are vivid, and I constantly try to remind myself of these humble beginnings as my source of motivation and gratitude," he explains.
Denielle emphasizes that students who want to succeed in the field of computer science must be comfortable with being uncomfortable. "Especially in the case of succeeding in a STEM field like computer science, life stops when you stop learning and being uncomfortable. Technology is always evolving, so try to consistently seek knowledge and new experiences no matter how uncomfortable it seems to be at first. To get into the computer science industry, solve LeetCode problems consistently, start or join projects, get involved in clubs on campus, and get to know people who are in the position you're pursuing. Get outside of your comfort zone, and you will go a very long way."