Spotlight: An Honors Happily-Ever-After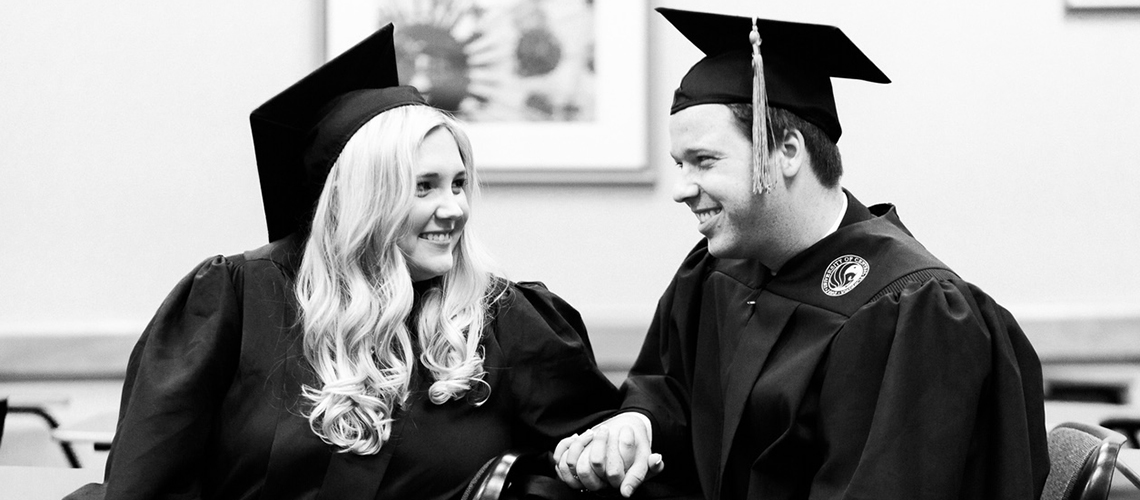 Madison and Alec gaze at one another in the BHC classroom where they first met. Photo Credit: Chantell Rae Photography
An Honors Happily-Ever-After
Madison Morgan '16 and Alec O'Connor '16 started their fairytale romance right here at BHC.
Why did you choose UCF? Why the Burnett Honors College?
Madison: I was pretty young when I started college (16), and I chose somewhere close to home so I could commute. I grew up in Sanford, and my family has been in the Central Florida area for several generations. I loved growing up here, and it's fun to see all of the changes happening around the area now, too! I'm also a big Disney person (our pups' names are Alice and Belle), so I don't think I could ever move too far away from the magic.
When I toured, I was surprised by how much it felt like the right place for me - everything was updated and state-of-the-art. Plus, being able to save money by living at home and using Bright Futures and Florida Prepaid certainly helped. BHC was able to offer the small, intellectual aspect I was looking for but with all the added benefits of a large university. And picking classes first didn't hurt either!
Alec: I chose UCF because it ended up being the best value for my education. Staying in-state wasn't important to me when I selected UCF, but I ended up really appreciating being close, but not too close, to home. I heard about and applied to BHC at the last minute with little hope of getting in, but I was surprised to find out that I did! The small class sizes and added resources available to BHC students really enriched my UCF experience. Plus, the small classes make for good matchmaking opportunities!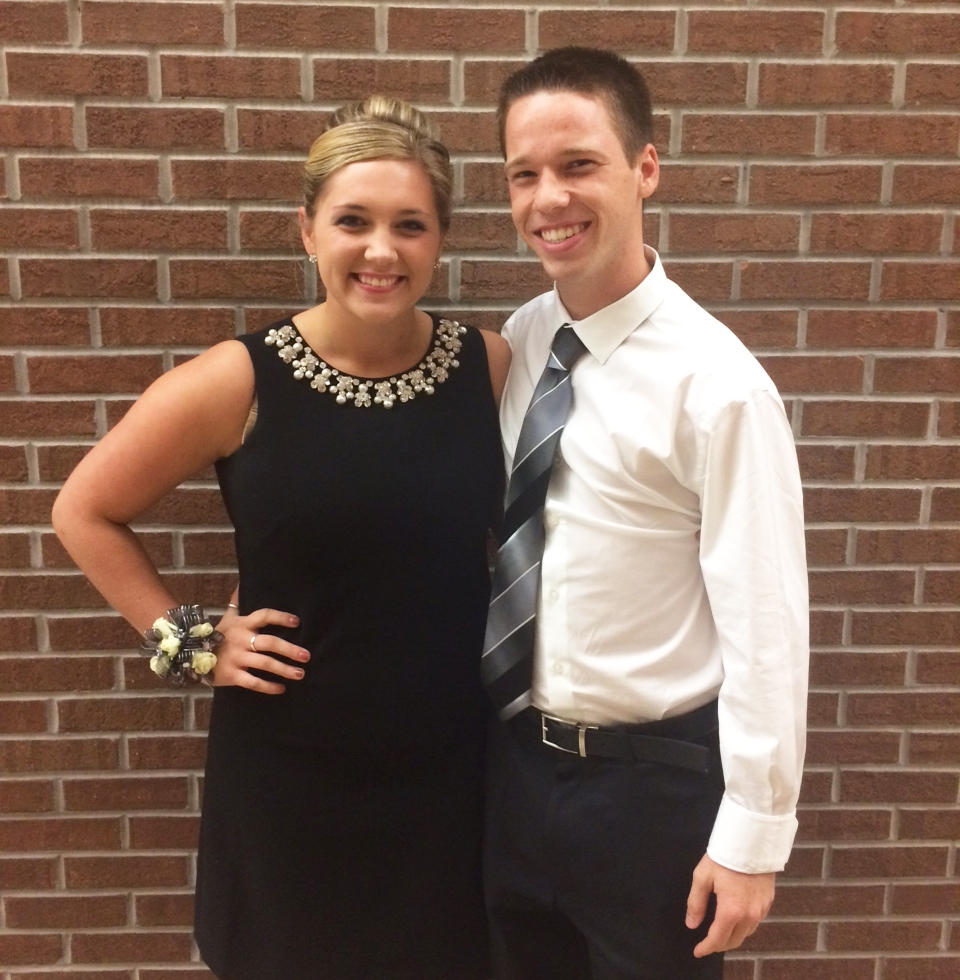 Madison and Alec during their first year in college, at a BHC winter formal event!
What were your majors in college? What was it like being in the same honors program together?
Madison: We both ended up majoring in industrial engineering, and it was so fun to be in almost all of our classes together! Being on a team project together is a true test of any relationship, and we definitely got lots of practice with that! We make a great team.
How did you end up meeting?
Madison: Alec and I met on my first day at UCF, August 20, 2012. It was my second class of the day and my first class at the BHC – ENC 1101 with Dr. Bell. As cheesy as it sounds, he sat behind me and pulled my ponytail. I just thought he was goofy and a little annoying. Turns out, I was right, but it's what makes him so great. We were assigned as revision partners for our papers, and (with my editing help of course), one of his papers got published in Stylus: A Journal of First-Year Writing. We got to spend time together working on homework for that class, volunteering for ACE Day with BHC, and hanging around on campus on Tuesdays waiting for the Honors Symposium to start in the evening. One of those afternoons, he took me to Light Up UCF and cleverly found a way to hold my hand for the first time when we went ice skating. We've returned to Light Up UCF every year since.
Alec: I strategically sat behind Madison on our first day of English class and awkwardly tried to flirt. It didn't work, but I knew she was the one right away. A few days in, we needed peer review partners, and I asked her – she said yes! This gave us a reason to start talking outside of class and get to know each other better. We also had Tuesday nights together at Honors Symposium, and we got to hang out during the day beforehand. One of our favorite hangout places on campus was the roof of the Music building. We also spent time exploring campus and hanging out at the Reflecting Pond. When I saw the tent start to go up for Light Up UCF, I knew it would be fun to go together, and secretly hoped she was bad at ice skating so we could maybe hold hands. It worked!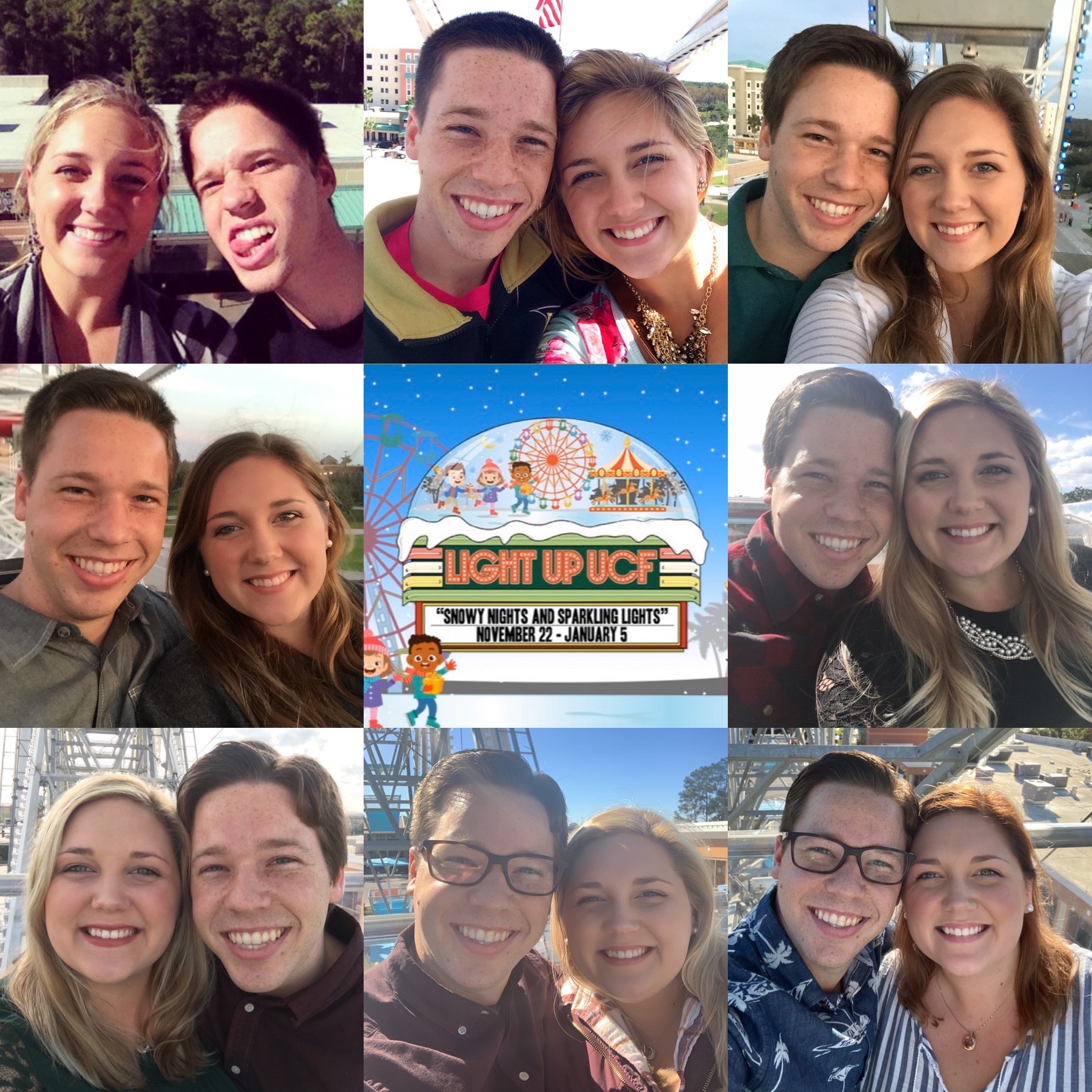 8 years - and counting - of Light Up UCF together.
And the Light Up UCF Ferris wheel is special to the both of you — that's where the proposal took place four years later.
Madison: We started out by getting donuts at the Dunkin near Towers. Alec worked at Dunkin in high school, so my dad called him "donut boy" when they met, and it just kind of became one of our things. Alec would always surprise me with donuts at class, pink frosting with sprinkles, of course. The sun was starting to set after we finished our donuts, so we headed to the Ferris wheel to get our annual photo before it was dark. When we got to the top, the Ferris wheel stopped. Alec swears he didn't tell the guy to stop us at the top, but it was perfect timing. He attempted to get down on one knee in the tiny Ferris wheel car and asked me to marry him. It was an easy yes! The wheel resumed right as I answered. After the ride finished, we grabbed a pizza at the Domino's at Towers and called our families!
We got married four-and-a-half years after we met. It was a small wedding, with just our families in St. Augustine, at the Lightner Museum & Columbia Restaurant. We chose to get married in St. Augustine because it was one of our favorite weekend day-trip spots while at UCF. Since it was just family, we had everyone match so we could get a giant family photo.
We [recently] became foster parents and were able to take the little girl who's with us right now to Light Up UCF with us this year! She was too little for the wheel, but she loved the kid rides and had a great time. (smiles) It was so fun getting to share our special place with her.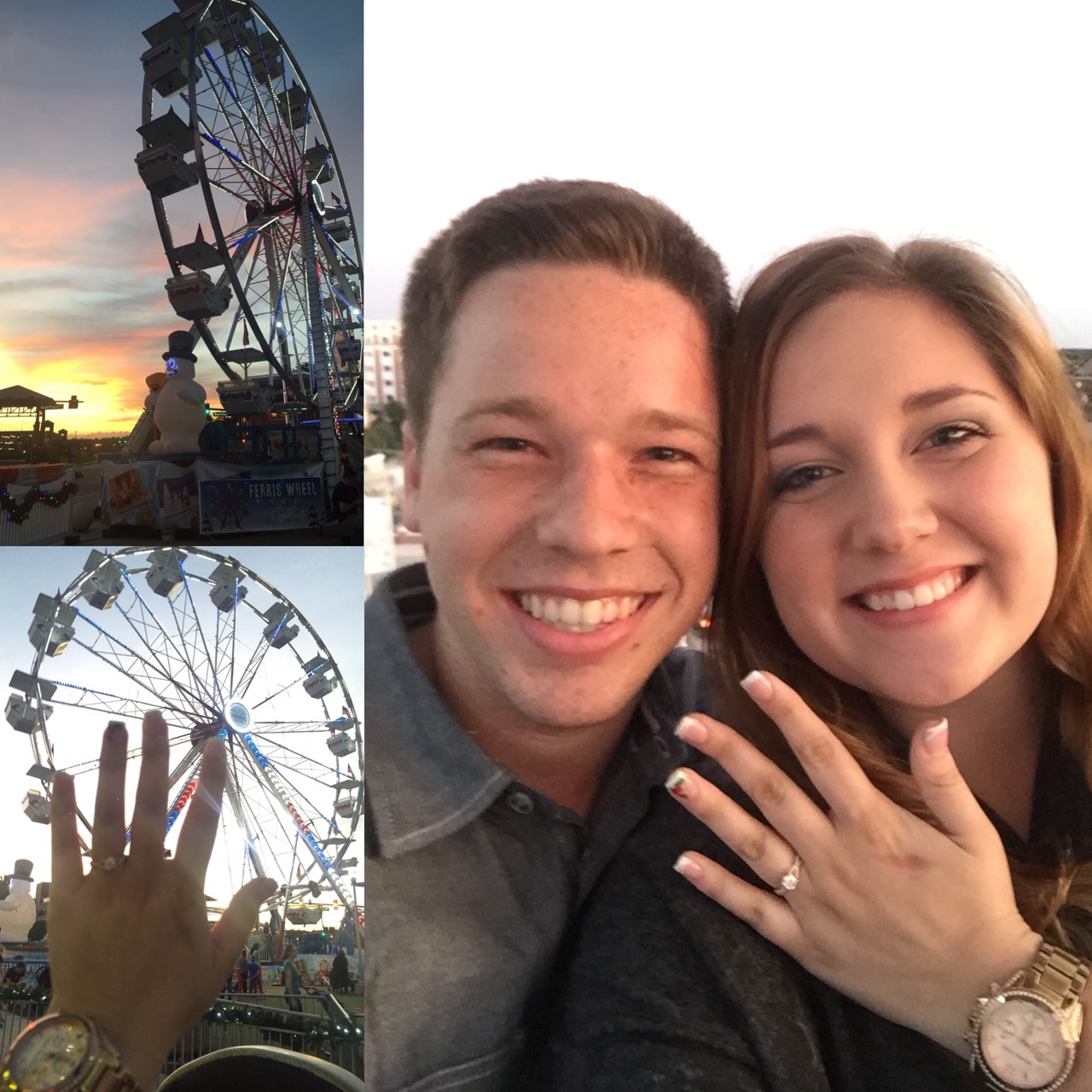 The proposal.
What are you doing now? How did the BHC help the both of you get where you are today?
Madison: I'm a project manager at Siemens Energy, Inc. across the street. I spent three years coordinating a development program for new field service engineers (the same program where my parents met 25 years ago!) as well as the intern and co-op programs for Region North America. Now I support field service international operations, [which is] responsible for the people and tools needed for power plant outages throughout the globe (everywhere but the Americas). In my role, I'm responsible for process tracking and improvement within each area (visas, tooling, billing, outage tracking, etc.) and across the department as a whole. There are a lot of moving pieces in a lot of different places, so my industrial engineering background is lending itself well to this.
UCF and BHC definitely played a big role in helping me get where I am today, and I love telling people about BHC whenever I get a chance! UCF's fantastic location allowed me to not only get the Siemens internship during my sophomore year, but also to work and take classes back and forth all day since it was so close. I was able to draw from the knowledge of those I worked with at Siemens to help me learn more for projects at UCF, and then eventually, I was able to turn it around, and give back to upcoming students.
Alec: I'm a lead iOS developer with Marriott Vacation Club. I've always enjoyed programming and working with iOS, and I ended up being able to do some as part of my engineering internships until it turned into a career path. Turns out I probably should've majored in computer science, but doing industrial engineering together was more fun (smiles). UCF and BHC helped me build a home and community here in Central Florida, and it's where I met my wife, so I'd call that a win!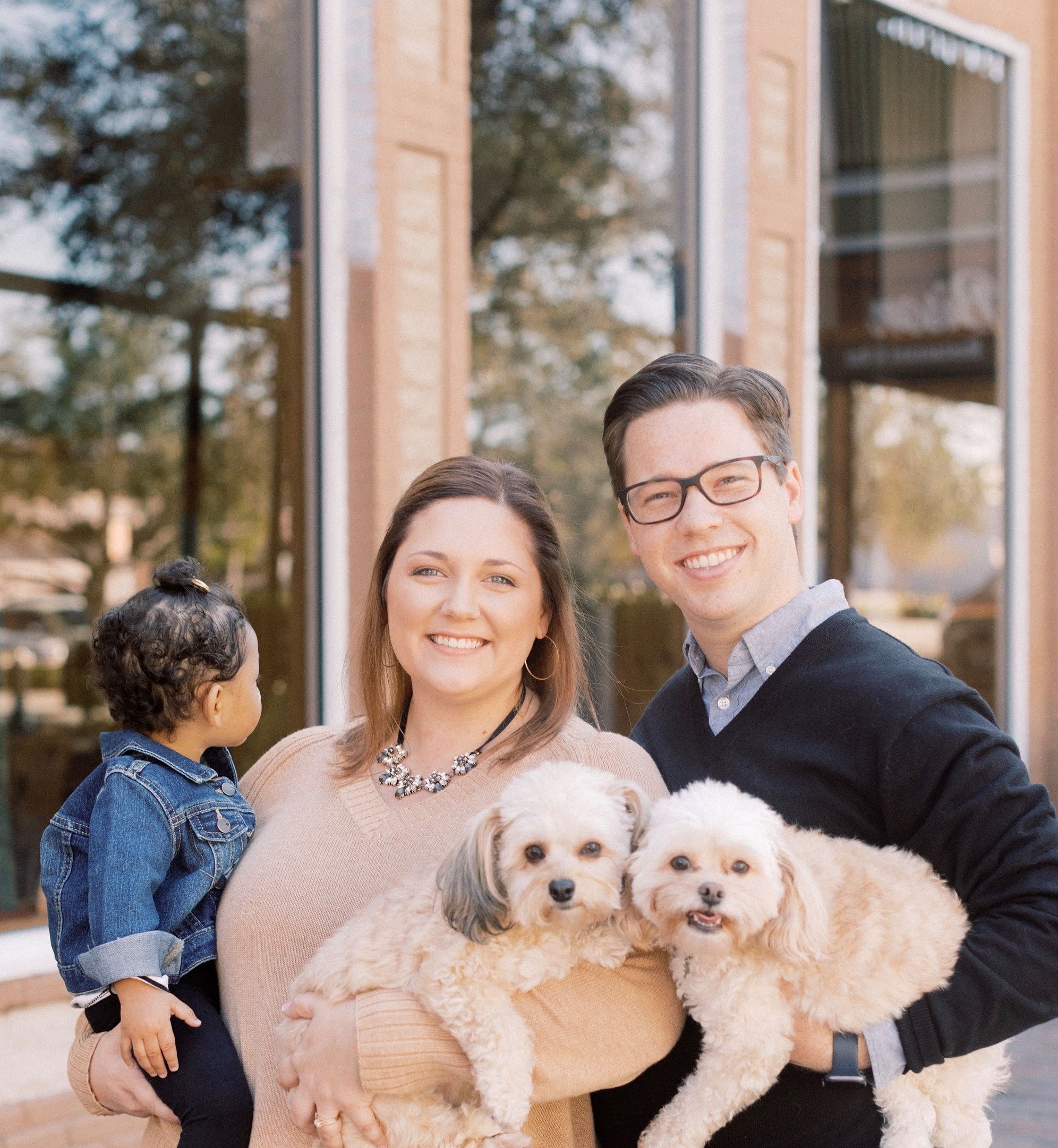 Madison and Alec with their puppies and foster daughter today.