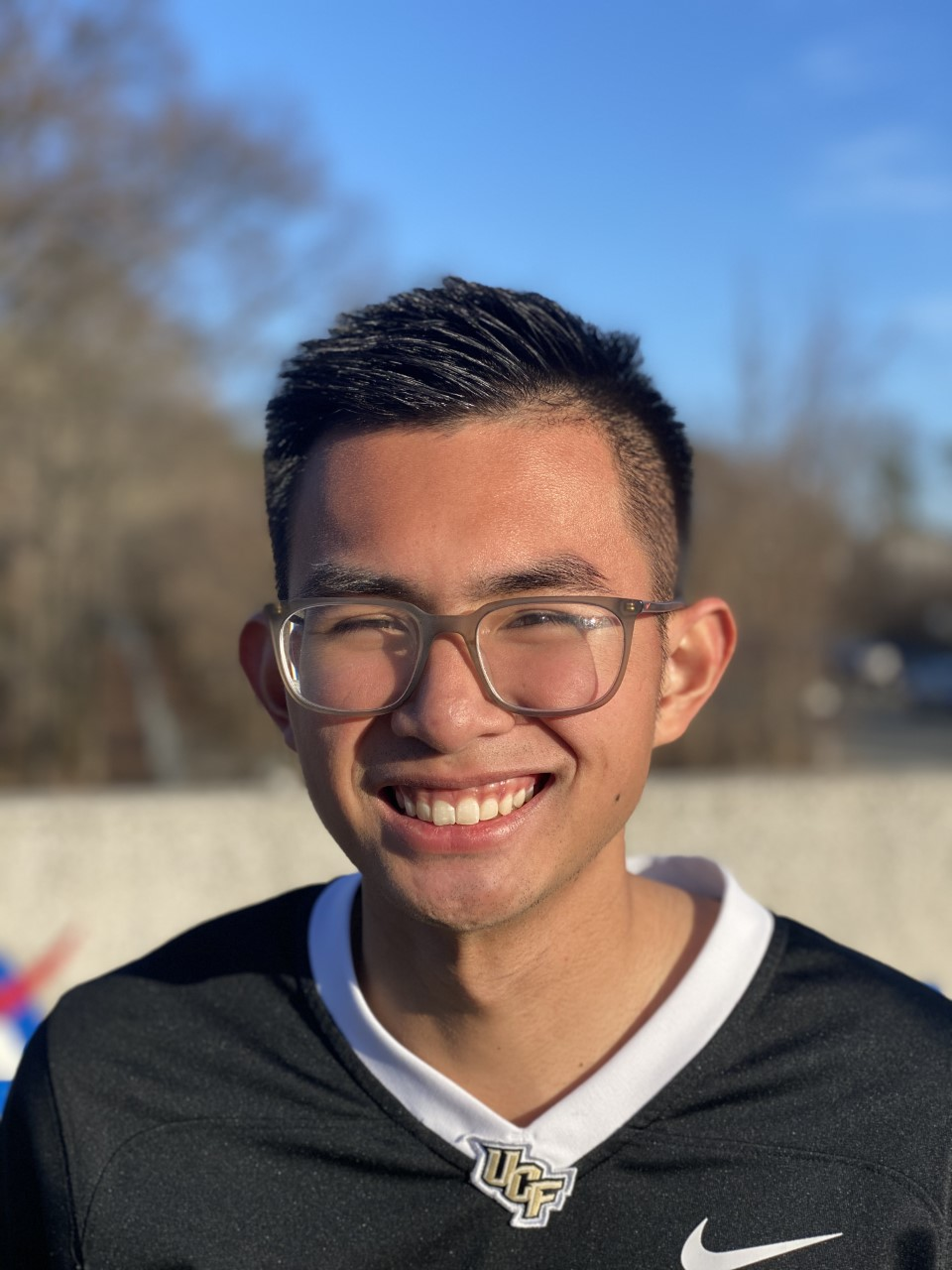 Hieu Nguyen
Hieu Nguyen, a mechanical engineering major at the UCF Burnett Honors College, interned with NASA at the Goddard Space Flight Center in Greenbelt, Maryland for the spring semester and has had the opportunity to extend his internship into the summer. Nguyen credits BHC with providing him the opportunity to meet his research mentor and the Burnett Research Scholars program with helping him gain his internship with NASA.
Did you always want to go into mechanical engineering?
I think the reason I picked this major is that it's the most general form of engineering. My future plan is to pursue either a master's or Ph.D. degree in another field, whether it's in science or another engineering field. I didn't want to specialize just yet as an undergrad, but I think having a degree in engineering will really help me succeed in the future.

What draws you to that field of study?
Although I might be studying engineering, my true passion lies with science. I have been blessed to be able to work in many different fields throughout my early career. The research lab I'm working with deals mainly with the physics of photocatalytic materials. I also worked in a material science lab at Lockheed Martin, and now I'm part of NASA's Earth Science division collecting and studying atmospheric data. For all of this experience, I was originally brought on for my expertise as an engineer. But soon enough, I started to learn more about these fields. The knowledge that I acquire from these jobs is invaluable, especially because it's not taught in my curriculum. It also has a major implication on which field I will be studying in graduate school.
How did you become a Burnett Research Scholar and get involved in working with Dr. Mihai Vaida?
Entering my second semester, I knew that I wanted to get involved with research as soon as possible. I began sending out emails to many professors asking to work with them, but none were interested because of my inexperience. Dr. Vaida was my physics professor at the time and I learnt that he was also new to the university. I decided to reach out to him about the possibility of working in the lab. To my surprise, he was very kind, and he brought me on to his team.
Originally, I was brought on to design some components for the UHV chambers. Soon after, I started learning more about the research and the work being done there. After two semesters working in the class, Dr. Vaida and I both agreed that [I was] ready to start running my own project. We came across the Burnett Research Scholar program while looking for potential grants that I could apply to. With his expertise and guidance, I was able to write a detailed proposal that landed me a spot in the program.
How did you learn about the opportunity with NASA's Goddard Space Flight Center?
As an engineer, NASA has always been my dream place to work at. But I also knew that it would be very competitive to land a position at the agency. I never expected to hear back from them so I kind of just put my name into the portal.

The day before the deadline for application closed, I received an email from Dr. Sullivan inquiring about my interest in interning in the spring. At first, I thought it was a scam email since I couldn't really believe that someone at NASA would reach out to me. However, after looking more into the email and researching Dr. Sullivan, I gave him a call. And from there, the ball just started rolling and here I am working at the Goddard Space Flight Center. From the short time I have been here, this internship has been a dream come true.
What have you been doing at the internship?
I'm currently working in the Earth Science division, particularly with the TROPOZ TOLNET Lidar group. Lidar is short for Light Detection and Ranging.. A Lidar system uses a laser beam that is shot into the atmosphere, which will reflect off molecules in the air to collect information. GSFC's Lidar system is used specifically to collect [data about] aerosol, ozone, and NO2 levels in the troposphere. These gases are vital to the study and understanding of climate change, and the data recorded is being used by scientists around the world. What makes the GSFC's system unique is that it's mobile. The whole system (which includes a laser generator, chillers, acquisition machines, etc.) is placed inside a trailer that can be deployed anywhere in the world. Some of the notable places that the group has brought the trailer to include South Korea, Europe and Hawaii.
Lidar collection is a long and tedious task that takes up at least one day. Because there are so many different components to a Lidar system, at any given time, there has be an operator inside the trailer to 'babysit' it. That's where I come in. My goal for the internship is to automate the components so that someone who is not inside the trailer can keep track of what's happening with the system. By doing this, the team will have to spend less time acquiring the data and more time analyzing them. For the past couple weeks, I have slowly been talking to each part of the system using [the coding language] Python. For now, I'm able to write small programs that interact with individual systems of the Lidar, and my next task is to combine them all together into a user-friendly menu. After that, I will find a way to remotely control the system from the outside world. This is all very new and challenging to me, but I'm really enjoying it. Every time I'm able to get a piece of code working, I get a rush that keeps me motivated. I can't wait to see the final product being implemented and being able to leave my mark on a NASA project.
What lessons or insights have you taken from the internship?
The number one lesson that I learned so far is that nothing is impossible. NASA has shown me there are really no limits to what humans can do and can achieve. The work being done here is groundbreaking in every aspect, and the employees working here are extremely determined. They don't give up on a problem and they work until they can solve it. The fact that we were able to put a human [on] the moon 50 years ago is astonishing.
I have learned that things in science don't always go to plan, and that your plans will change a lot over time. But having a positive attitude when approaching your problems will make things a lot easier and as long as you don't give up on it, eventually you will find a solution.
How do you think the internship experience will influence you going forward, and into your future career?
After graduation, I plan on pursuing either a master's or a Ph.D. degree. In what field - that I haven't figured out yet. But this internship has been very eye-opening. NASA is definitely the place I want to end up working for; I have never been more passionate about my work than I have been for the last two months. I will be making sure to create connections and prepar[ing] myself so that I can come back here as a full-time employee.