Spotlight: Honors Welcomes Dr. Sherron Roberts as Inaugural Faculty Fellow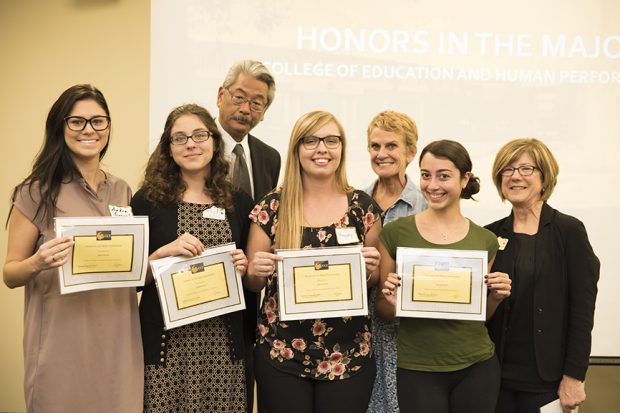 The Burnett Honors College is pleased to announce that Dr. Sherron Roberts has been selected as the inaugural Burnett Honors Faculty Fellow for 2017 – 2018. Dr. Roberts will work closely with the Office of Research and Community Engagement, particularly with the Honors in the Major program promoting HIM to faculty and students, strengthening partnerships with college and department HIM coordinators, and assisting with the administration and assessment of the program.
Having served as the HIM coordinator for the College of Education for the last 15 years and chairing over 32 HIM theses, Dr. Roberts comes to this role with a wealth of expertise in supporting students and faculty alike who are involved with Honors in the Major. She is known within the HIM community for her "Surviving Your Thesis Defense" workshop, and has been a facilitator, judge, and mentor for the Showcase of Undergraduate Research Excellence.
Beyond her extensive work supporting HIM, Dr. Roberts has been actively engaged in the ensuring that the Honors Experience is an exceptional one through her service on the University Honors Committee and as chair of the Honors Committee for the College of Education and Human Performance. Dr. Roberts' well-rounded understanding of the Honors College, its programs, and her passion for providing exceptional students opportunities to realize their potential will allow her to greatly contribute to the mission and goals of the College.
Dr. Roberts' research interests include analyzing and reporting innovative teaching practices to model for preservice teachers, such as the use of technology or literature study groups within methods courses. Additionally, she continues to explore gender issues within a large database of all Newbery fiction from 1922 to present. With her many experiences as a scholar and mentor, we look forward to the collaborative leadership that Dr. Roberts will bring to the Honors College and the role of Faculty Fellow.
To learn more about Honors in the Major, please visit:
https://orce.honors.ucf.edu/honors-in-the-major/.
To learn more about the Burnett Honors College Faculty Fellow Program, please visit: https://honors.ucf.edu/opportunity/faculty-fellow-program-with-him/.