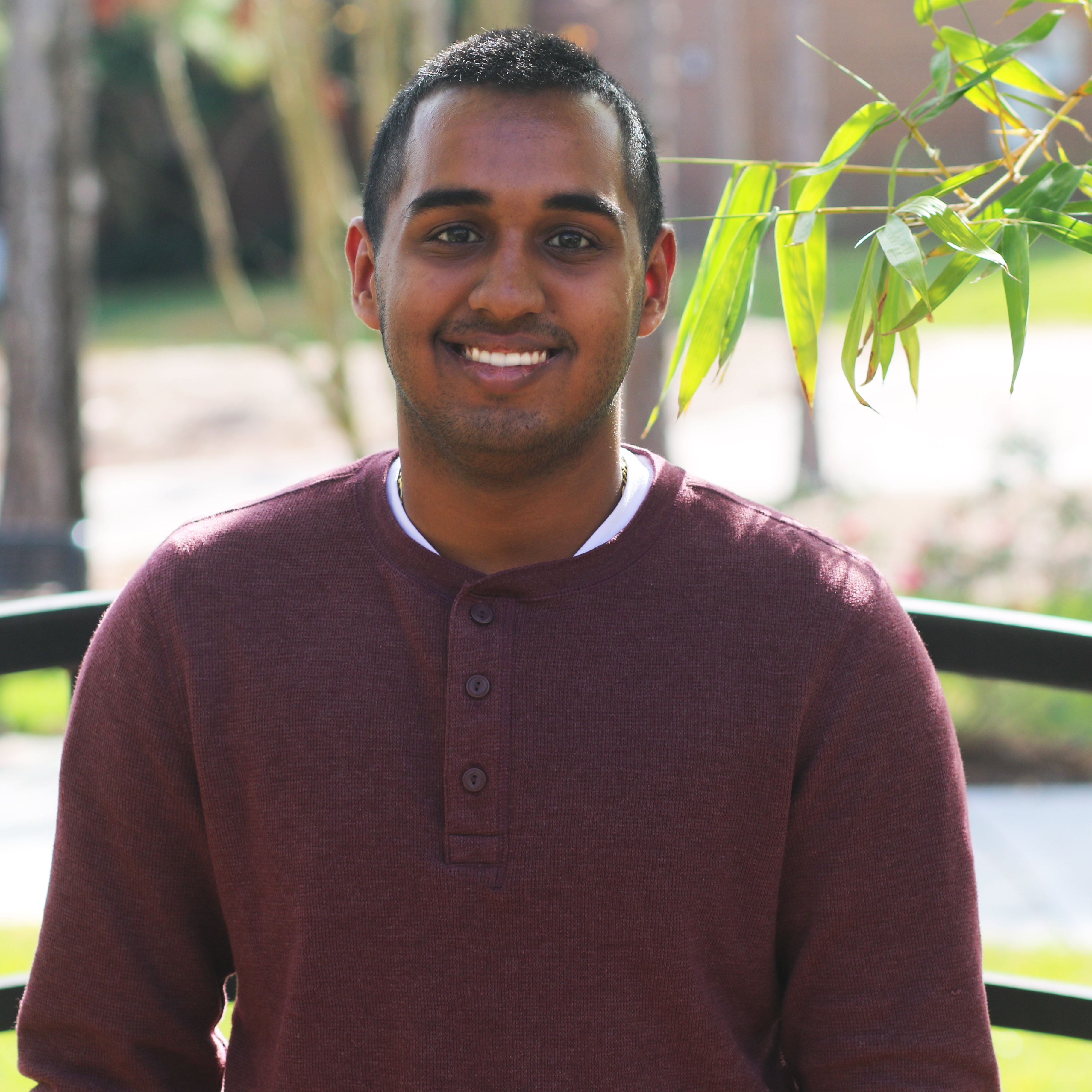 Rishi Basdeo
Meet Rishi, a freshman student in the the MEDD program, majoring in mechanical engineering and biomedical science, and an intern at Limbitless Solutions
I chose UCF because of the MEDD program. MEDD stands for medical engineering double degree. It's for freshmen who want to pursue a degree in engineering and biomedical sciences. It's really exciting to be able to be a part of the first year of the program; there are only three of us. We basically have our own little sub-family. It's another community to draw from. UCF's been great in accommodating us. I want to develop prosthetics as a career. Normally, when you develop prosthetics, it requires a mechanical engineer, or electrical engineer, and someone with a biomedical background. The issue is, neither the engineer or the biomedical person has a background in the opposite field. MEDD is great because it gives me a background in both areas. I think it's really cool to be able to have that experience.
UCF is the home of Limbitless Solutions. For those who don't know, Limbitless Solutions helps children by developing affordable, 3D printed limbs. Limbitless is one of the main reasons I've decided to pursue prosthetics as a career. I decided to apply for internships with Limbitless on handshake. Halfway through my first semester, I received a position as an engineering development intern. I'm learning to work with both the mechanical side and electrical side of engineering and applying that to the development of prosthetics. My first project was developing an Iron Man ARC Reactor. The idea of that was to learn the CAD aspect, 3D modeling, and the electronics component, where you design the electronics board. Once I move on with this project, I will be able to begin working with the 3D printed arms in terms of design improvements.
The greatest thing about working at Limbitless is that the whole group is essentially one big family united by a common goal. Everyone there is extremely easy to talk to and is more than willing to help you out with whatever problems you're having, whether it is with as simple getting a piece of software or as difficult as programming an arm. They also place heavy emphasis on collaboration. A majority of the learning is hands-on. I have been able to grow alongside my new friends while still being able to help spread awareness of the Limbitless Cause. During outreach events, I have been able to talk to the public and speak confidently about what I learned, all the while demonstrating some of the projects that were being worked on.
My favorite memory at Limbitless was when Bill and Melinda Gates visited with the Gates Foundation. We were showing our Iron Man ARC Reactor CAD models. Upon being asked how long ago he first learned to CAD, my fellow intern, Zach, responded with, "About five weeks now." The shock on Bill Gates' face was unbelievable. This best attests to the amount of involvement we were able to have in both the Limbitless community and the how much we were taught in our first few weeks."