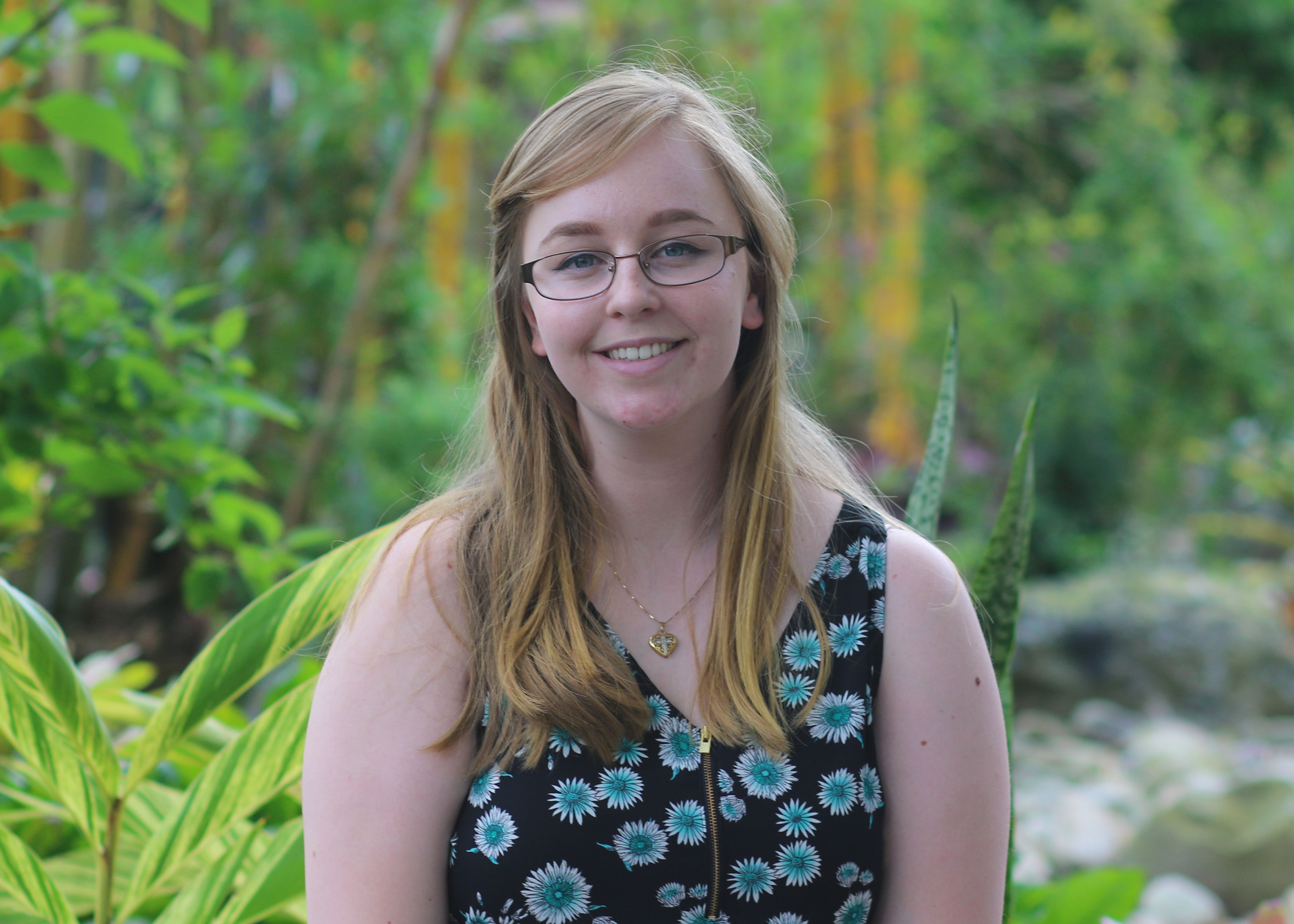 Nicole Valenzi
Meet Nicole, a junior studying arts management, a Dungeons & Dragons Gamemaster, an artist, and an Honors Orientation Peer Advisor.
"Well, I'm Nicole Valenzi and I just turned 20. I'm a visual arts and emerging media management major or just arts management if that makes more sense. I'm from Port Orange, Florida or more specifically a tiny tiny town within it called Samsula. And I'm a junior.
So, arts management is sort of a build your own major type thing, where it focuses on managing the arts whether that be in museums as a curator or as an art gallery director. But it could also go to being an art director at a company or in more corporate settings. It deals a lot with the business side of things, as well as like specifically how do you transport art...how do you deal with copyright laws and things like that as well as for more curatorial stuff. How do you set up an exhibit and how do you find things for exhibits you want to do and how to find grants...it's sort of taking a general business major and then just honing it more towards the arts.
I'm not from too far away, it's like a 45 minute drive, so I kind of always knew about UCF in the back of my head, and originally I wanted to do character animation, and everything I read about online said that you either need to go to California and be in the middle of L.A., or you need to be in the Orlando area and everything spoke really highly of UCF's character animation program. So that's sort of what drew me here. I'm also close to my parents and my grandmother who is getting older so you know staying near family and staying kind of near friends who are still all going to be in Florida just not in the same area was sort of a perk. I just I came here a couple times before I went and I saw like the worst possible conditions. It was pouring rain and my dad and I were still walking around like oh this is still really nice! I liked how big it was. I went to a really big high school so I was really vehemently against going to a very small college. So the fact that there was so many people and stuff here really drew me to it.
I'm in the Honors College and a Peer Ambassador - I've done that both years I've been here that I wasn't an incoming freshman myself. I'm also the vice president of D20 Knights which is the role-playing game club on campus, which is kind of nerdy but it's very fun! It's just nice to meet up with other creative people and make a story every week and talk about the challenges that come along with it. You meet a lot of different people, and it's nice to see really shy people in the beginning, sort of like get into character and figure out what they're doing and live vicariously through characters. So what takes up a lot of my downtime is planning for those, I play in one and I run another and I'm going to run a new one as well. I'm technically a just a general gamemaster because I'm running two different systems but I ran my first game last semester and I was had so much fun doing it! I was super nervous because there's so much improv, and like things that you have to keep straight, but my friends were really sweet and super nice to me and were super into it. That's sort of my core friend group is meeting up and playing games, because when you're pretending to be a wizard it's hard to judge people.
I really liked my peer ambassadors when I was a freshman here and I thought that it would be like I was going to stay on campus. I knew for some classes and I really want to be alone time. I liked the fact that it wasn't as intense as being an O-teamer but I still got to meet a whole bunch of people and help them. It was just a very tangible feeling of helping someone through something that's really confusing. I had those overachieving kids who had their whole schedule figured out, but I was okay with it because I like doing the same thing and like figuring out the puzzle. Like what classes can you take for your major and your minors and stuff. Then after I did that the first time, I just really enjoyed it so I wanted to do it again. And I'm planning on doing it next summer if I can!
There's never like a point where it was like THIS is when I started drawing, but I definitely started paying more attention to it and like working towards it as a skill like my fifth grade year. I had a friend who got really into anime and she was drawing all the people in our class, and I was like I want to do that. So she drew me and I took it home and I traced it like a thousand times and it was not a great picture so we just had a thousand copies of like very generic girl with super giant eyes. It was sort of like friendly rivalry of who could draw better. Then in middle school, I started taking realism classes and that sort of combined my hobby with more actual structure. It taught me how to look at things objectively and from then on, I just liked taking art classes. I took AB and IP Art at the same time because I'm a crazy person, and I created more art than I ever have in my entire life, but I loved it so much and that's why I thought I wanted to do character animation. But then I realized I didn't actually want people telling me what to draw all the time. I just got really burned out on it really quickly, and eventually my parents were just like you do you know you don't have to stay with this, so then I switched to arts management. I still really like art and I like working with it, but I didn't want to necessarily be the one making it constantly. So I liked the idea of working in a museum, helping other people showcase their art, and bringing art to people who wouldn't necessarily find it otherwise.
I really like drawing people - I've always been a very story driven person, like making characters long before I discovered D&D or anything that can actually put them to use. I just like exploring other people's experiences in the world and sort of it's been fun to go back because I've kept sketchbooks from like middle school on - it's interesting to see how they've evolved, and how far I've come thus far. And in the near future, I'd like to maybe find a job or an internship at a gallery or a museum while I'm finishing up classes. However, I'm the type of person who just stresses myself out trying to decide what is going to happen in the future, so I'm just trying to take it one year at a time."