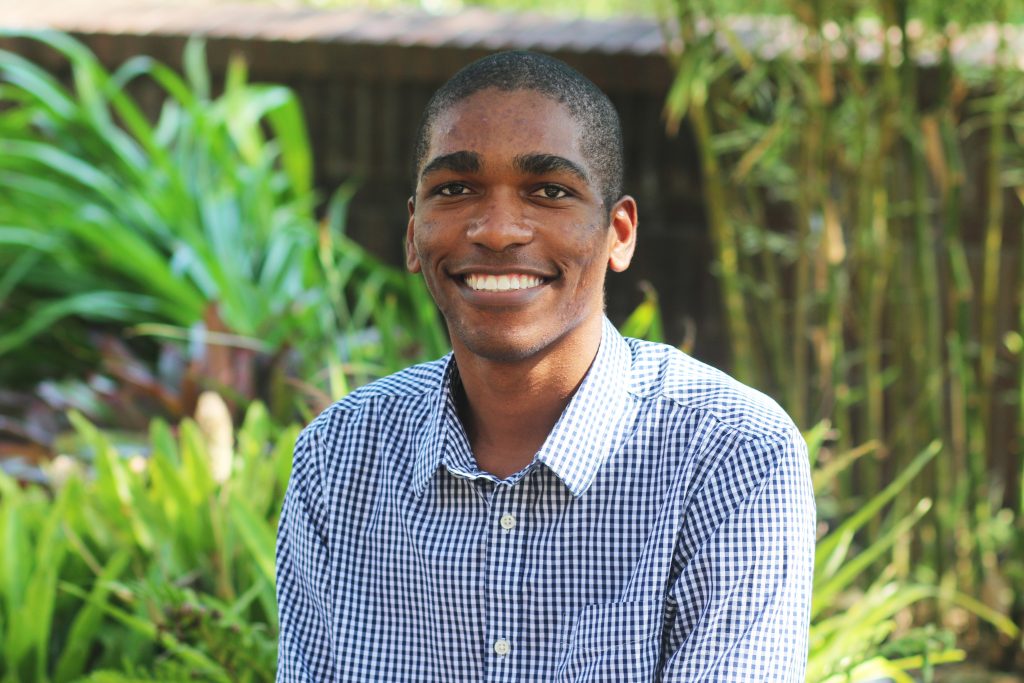 Lake Lindo
Meet Lake, a junior majoring in biomedical sciences who is a member of BMS, HIM, Peer Ambassador, and Lead Scholars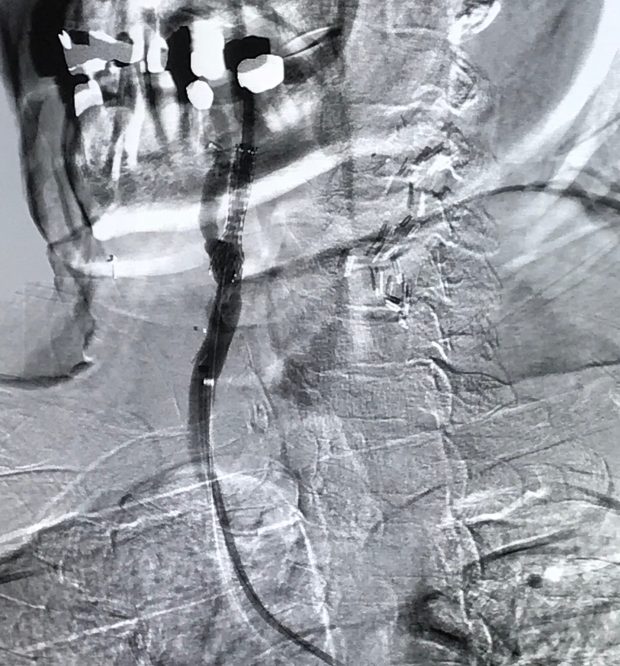 Here's an X-ray image from Lake's internship of a stent that was placed into the right internal carotid artery to fix an occlusion (blockage).
"Orlando has pretty much been my home for the past 21 years.  When I applied to UCF and got in, I got a letter saying that I might qualify for the Burnett Honors College. I sent an application in and was accepted into BHC, too. I was a little concerned about coming into such a large university; I thought it may be hard to acclimate coming from a small high school. So, I liked how you can get that small community and connect with students and form stronger relationships with the students and the faculty within the Burnett Honors College. I liked the small class sizes because that was something I was used to from high school. It helped make the transition to college that much easier.
The Burnett Medical Scholars (BMS) Program also really drew me to BHC. The Burnett Medical Scholars program is an eight year accelerated medical program that provides a guaranteed acceptance to UCF's College of Medicine, as long as you meet certain requirements and keep up with them, such as: GPA, MCAT, shadowing and research. Ever since I was younger, I knew I wanted to become a doctor. Seeing that UCF and the Burnett Honors College had this program that facilitated entry into medical school, I thought it would be a really good opportunity to take advantage of. To have that guarantee for getting into medical school is something that's very valuable to me. This program pushes you to put yourself out there and try new things. The faculty that help run and facilitate the program will let you know about volunteer opportunities or research opportunities. BMS is very helpful during your later years in advising you on what courses to take, what opportunities you should look for, and how you can keep up with the timeline and requirements.
Honors in the Major is a requirement of BMS. I was able to pick the area of research that has interest to me. I'm working in a cardiovascular lab right now with Dr. Ebert. I'm actually working on a neuroscience project. I'm really enjoying the project I'm working on now, which is studying the role that adrenergic neurons, neurons that produce epinephrine, in the hypothalamus play on metabolic deficits. We created a mouse model that has selected destruction of those neurons. We noticed an unexpected phenotype where the mice stopped gaining weight after a certain age. We're trying to see whether or not that was due to destroying those neurons. In the long term, this information will hopefully provide new drug targets for weight control. I've learned a lot from this research opportunity in terms of time management, patience – especially when experiments don't work for two months, and teamwork.
Another requirement of BMS is shadowing. I applied for an internship at the end of fall semester. There were two options: clinical or surgical. The clinical internship is where you shadow a doctor in a private office and they require 40 hours per semester. The surgical internship is where you shadow different surgeons and different specialties and it requires 150 hours per semester. I applied for the surgical internship and I received the position. I'm kind of a reserved person so I didn't know if I would be able to go into the OR and interact with the doctors and put myself out there. But, I decided to go forward with pursuing this internship because I knew it would be a really great learning experience. I didn't want to make a decision out of fear of being too shy; I wanted to help myself grow as a person. The surgical internship only takes four students per semester, out of over 100 applicants. I'm very grateful that I have this opportunity and I feel like I've learned a lot so far. On a typical day, I get to the operating room by 6:30 a.m. and leave around 5:00 p.m. It's really cool because you actually get to see a lot of interesting surgeries. Yesterday, I got to watch three open-heart surgeries.
Volunteering is a big part of the program as well. I've been volunteering at the veteran's hospital for about two years now. I'm a patient escort so I get to escort patients to different waiting areas in the radiology department. I really like this volunteer opportunity because I get to interact with patients and see how they're doing and learn from them. They're all veterans so it's a unique population that I'm helping. They're all very grateful that they have volunteers spending time with them and helping them navigate the hospital. I also have been a volunteer at Give Kids the World for about two years. Give Kids the World is a non-profit organization that offers free week-long vacations to its resort and free tickets to the local attractions for kids with terminal illnesses and their families. It's really cool to interact with the kids and the parents and make them have a good time. This is a week where they can forget about their problems and have as much fun as they can.
I'm not going to lie and say that managing participating in BMS, HIM, research, internships and volunteering isn't stressful. I take it a day at a time. I have friends in similar situations so it's good for us to help each other out and see that we're not going through it alone. Another really great thing about the honors college is that you get to meet people that have similar interests Since you're in those smaller classes together, you actually get to form those bonds early on and carry them throughout your four years of undergrad. Having support is really important. I was worried about doing too much at once. I realized that in my situation, the benefits outweighed the costs. You're in undergrad for such a short amount of time so it's critical to take advantage of every opportunity that you can. You don't want to regret not doing something when it could have been such a great experience.
As far as my future goes, I really like the UCF Medical School so I think that I will be staying here for med school. I'm not sure what kind of doctor I want to be. I think I want to do surgery. This internship has made me even more sure that I want to do that. In general, I want to be a good doctor and a good person. I want to be a well-rounded doctor with communication and interpersonal skills. I hope to continue my volunteer work that I'm doing and carry it into medical school and beyond."