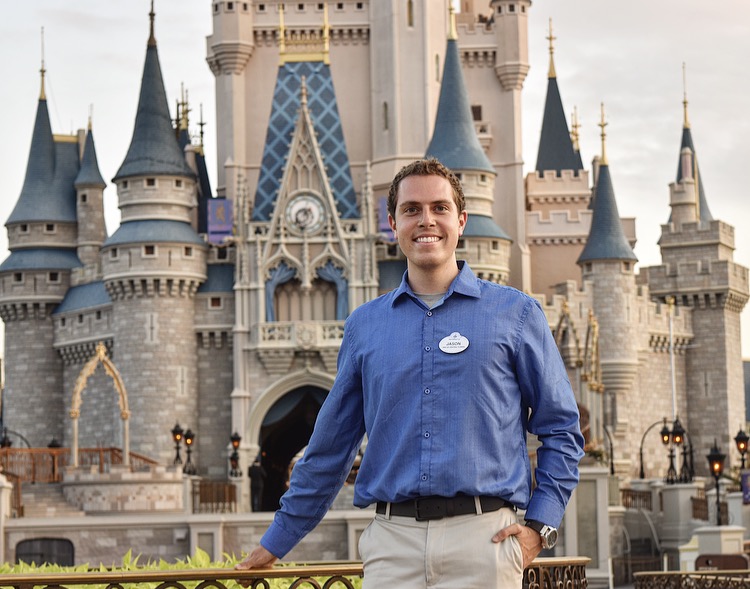 Jason Kuhn
Meet Jason, a junior majoring in mechanical engineering, a Peer Ambassador, a student assistant in BHC, a secretary of Themed Entertainment Association at UCF, and a recent intern for Disney World
"Disney was one of the major factors in my decision to attend UCF. I toured the honors college for the first time with our admission specialist, Brandy Blue, and I had an incredible experience. I fell in love with the campus and the honors college atmosphere. The fact that UCF has such a strong engineering program, and so many connections to companies nearby like NASA, Disney, and Universal, was a major reason in why I decided to come here.
Every single year, starting with my first birthday, my family would vacation from my hometown of Pittsburgh to Orlando specifically to go to Disney World. We kept coming back because of a consistency in experiences we had on our vacations. We had amazing memories every single time. There were always dedicated cast members who ensured we were having a great time. Because of how much Disney had given me growing up, I wanted an opportunity to have a chance to give back and sort of make my own mark on the company. 
I had gone to several resume critiques at UCF throughout my first couple of years and got involved in engineering competitions to develop my resume more. I had the opportunity to do a competition for theme park design at Universal Creative my sophomore year. That was a big contributing factor in helping me to develop myself professionally. After that, I applied to a Disney Professional Internship on Disney's website. I had an interview last June then started working at Disney in August. 
I always knew I wanted to work for Disney in some facet. Having the opportunity to do an engineering internship there was something I didn't want to turn down. It's so valuable to have internships during your undergraduate experience. I can honestly say that I learned almost as much, if not more, in those four months of my internship than I did in two years of undergrad. Having that out-of-class internship experience is extremely valuable as a student. The internship was full-time, Monday through Friday. I had varying hours throughout the week because in the specific department I worked in, a lot of the work we do has to be done when the attractions aren't being ridden by guests. It was a unique experience everyday with the different projects we were working on.
My primary duties were within the quality engineering department. Quality engineering deals primarily with applying industry safety standards and ride laws to the design, inspection, and maintenance of the attractions. I personally had the chance to do some research on Walt Disney steam trains in the Magic Kingdom, learn more about them, and take part in steam train development among national steam train operators. I had the chance to attend a teleconference where I provided input on developing new safety standards. To be able to speak with ride engineers from around the country, and add my own input as an intern, was an extremely valuable experience. We did a lot of ride auditing, ensuring that the rides are following safety standards, and developing the inspection plans for them. I had a chance to audit the new Pandora attractions in Animal Kingdom, including the new Flight of Passage. Getting to walk around those attractions backstage and getting to learn more about them was a pretty life-changing experience.
This internship helped me to break out of my shell a little bit and taught me how to communicate technical information with other engineers. It's one thing to communicate professionally but another thing to learn how to receive technical information and then present it to other people. I had a very great mentor who helped me to learn that skill. The entire Disney staff was extremely supportive and always helping us learn.
Disney really offers a diverse learning experience. As I mentioned, you're doing so much more than just desk work. Disney makes sure that you have exposure to all the different departments within engineering. You're learning about rides; you're learning about different people. Disney really helps you to develop professionally and learn more about what you want to do in the future. Having this experience gave me a clear insight on what my end goal is and what I want to do after graduation. It's a great reminder that while you're struggling through your classes, while you're doing homework until 3 a.m. every night, you have an incentive to push you through to that light at the end of the tunnel."