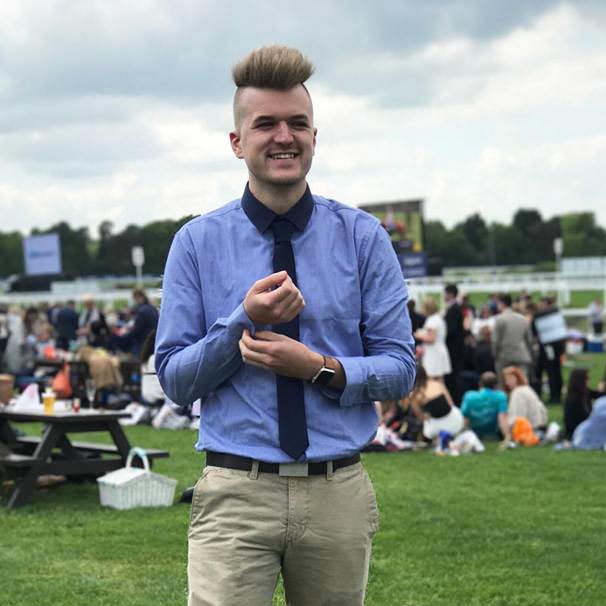 David Vine
Meet David, a senior studying Mathematics at the University of Central Florida and a former Team Leader of two years.
"I always wanted to travel abroad. I had never been out of the country. The Math Department sent out an email about all of these programs abroad. The third option was at the University of Surrey, where I went, which was about a 45-minute train ride from London. I left for Guildford, England, in February to start my semester abroad. I flew there on my own and managed to find a train to take me into town. That next Wednesday was our orientation for the semester. Any students that were studying abroad at Surrey were put together for the weekend to do a lot of ice breakers. I met people from all over the country and the world.
I took four classes during my semester there. Other than school, I was trying to explore. I could take a bus or walk into town to hang out with new friends, do homework, or do trivia. It was a cheap and fun way to get to know each other. I tried to focus on doing new things and being present with the fact that I wasn't home. I wanted to make the most of that.
Towards the end of the first month, we all started wanting to travel and go somewhere outside of England. We booked the cheapest flight we could and ended up going to Dublin, Ireland. There were a couple of us that went together, which was another great way to meet new people and make new friends. We all had the month of April off from university. I knew the places that I wanted to go and different cities I wanted to see. I would invite people I had met during my time abroad so far and say, "Hey I will be in this city on these day, who can swing that?" Or I would just go by myself.
When April came, a group of us went Athens, Greece, for a few nights. From there, we all branched out. I went to four or five cities by myself. I went to Berlin, took a train to Prague, flew to Rome and then flew to Florence, all by myself. I would find the cheapest hostel and flight and keep going to the next place. I booked my traveling it city by city. You would get to your hostel and it was a room full of bunkbeds. Everyone has a key to the room so people are in and out all day and all night. I met some great people traveling alone that I wouldn't have gotten to meet otherwise. In Prague, I met a girl from Berlin. The next day, she took me to meet the friends she was there visiting and gave me a tour of the city. This girl just happened to be in my hostel invited me out and it was one of the best days of traveling. It was basically like that in every city: you land, find your hostel, meet new people, get used to the city, then hop on the train to the next city. After that, I went to Amsterdam and Paris by myself.
When I got back to Guildford, England, I became closer with the other kids there from UCF. It's really nice because I'm still friends with them here.  I definitely did not budget or save enough money for the trip, but I wasn't the only one. After we basically were all kind of broke, we just started hanging out outside more. We went on day trips together around England during the rest of our time abroad.
As time dwindled down, we would stay up all night talking and hanging out and watch the sun rise. We really soaked in every second we have together. Studying abroad definitely opened me up to new cultures and perspectives. I learned that there are so many good listeners out there. My time abroad made me more open to say "yes" to doing things, especially if it's by myself. If I wasn't willing to go travel on my own, then I wouldn't have gotten to see most of the places that I did."